Kitchen Backsplash Styles and Themes
You can always choose to create your own kitchen backsplash styles and themes and designs for your backsplash.
It can be quite easy to create new ideas so it its something that you can just have a go at. Its just a case of making sure that you have worked out exactly what you need to do in advance and also, as with anything, following a plan.
This is definitely a requirement when you are experimenting and doing something like this in your own home and kitchen. Try and experiment and work out what you want from your backsplash. Dont try and embellish your backsplash with too many colors or textures at the same time just because they are available.
A new kitchen backsplash, especially one that you have chosen or designed yourself, will definitely help to bring and outdated or bored looking kitchen up to date. This would possibly allow you to save money by just updating the backsplash areas rather than the whole kitchen.
But of course once you introduce a new backsplash or change the backsplash design, you may then feel that the rest of the kitchen doesnt really match the style of the backsplash. So you need to be careful and take this into consideration that choosing to update the backsplash also.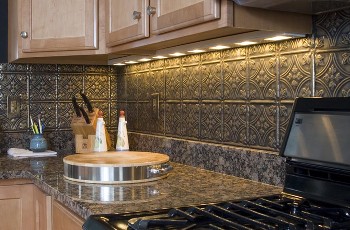 Using, for example, tumbled marble, or exotic murals, or mosaics, can allow you to transform your kitchen by introducing an eye catching backdrop into an otherwise plane jane vanilla part of your current kitchen. There are so many tips, ideas, styles and themes available for kitchen backsplashes, you will definitely be able to find something that will work to create the perfect backsplash or close to it, in your kitchen design.
Lets face it, sometimes we love our kitchens, and sometimes we dont. And we all have preferences for the type of kitchens we like. We can choose from an array of styles so here are a few and there typical fetaures.
Antique Kitchens, with distinctive features that come from an earlier period in history. Arts and Crafts Kitchens, identified by simple lines, rugged construction, and very little excess ornamentation. Asian Kitchen Design, featuring beautiful arrays of materials and color palettes. Contemporary Kitchens, generally composed of minimal ornamentation and flat surfaces.
Cottage Kitchens, which tend to be more feminine in appearance than their slightly more rustic country counterparts. Country Kitchens, with their more down to earth style and lived in looks. Craftsman kitchens, with historic simple lines, rugged construction, and very little excess ornamentation. Early American kitchens, with straight lines and uncomplicated designs
European kitchen designs, featuring contemporary styling, industrial looks,minimalistic and highly functional. French country kitchens, with the character of rural France, natural materials and earth tones. Gourmet kitchens, usually a professionals working kitchen with features such as gourmet appliances, large kitchen islands, and secondary sinks and ovens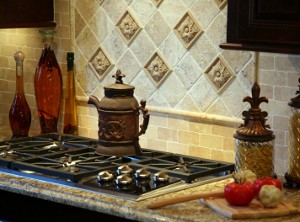 Italian Kitchens, showing rich colors and textures of Italy. Luxury kitchen designs, with lots of detail and expensive materials and colors. Mexican Kitchens usually feature bold colors and influences. Mission kitchens tend to have clean lines and solid construction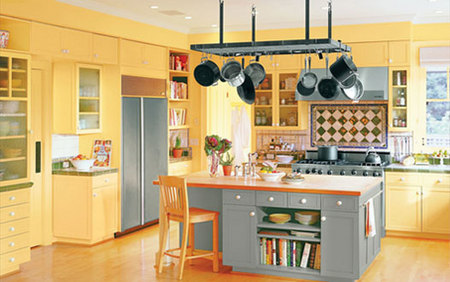 You need to at least have some idea of the look you want to create. So having a central theme in mind will help you come up with a matching idea for your kitchen backsplash. Here are a few backsplash ideas.
For an old world style choose tumbled marble, or any aged material in earth tones such as beige, brown or gold. Hand-painted tiles, murals and mosaics or a copper or tin backsplash. For a mediterranean style choose colorful tiles in natural fresh vibrant colors of bold blues and greens as main tiles or accents. For a contemporary style choose clean lines and polished surfaces such as polished granite or a glass, metal. Copper, tin or stainless steel backsplash.
Remember that the colors of your countertops, cabinets and backsplash need to compliment each other, so that they work together rather than against each other. Take colors from the countertop, floor or cabinets is always a good way to start.
The textures also need to be complimentary with the style you have chosen, rough and natural for rustic or old word, clean and polished for modern contemporary. Limit textures and colors as needed. You dont want to overwhelm the eye with everything being too busy or dramatic.
Rustic Look Kitchen
Kitchen Backsplash Styles and Themes