Cherry Cabinets Countertop Photos
Does your dream kitchen feature cherry cabinets? Are you picturing a wonderful new granite countertop or a beautiful new kitchen backsplash?
With a nice stain a cherry cabinet kitchen is a joy to behold and really could feature in your dream kitchen. And granite worktops are a popular addition to a cherry kitchen.
The cabinets and the countertops are probably the most expensive part of any kitchen remodel so take the time to make your choices. But a well designed kitchen is an investment in your so the money in never really wasted on a quality kitchen.
Especially these days when property prices are falling its worth improving the home you are in than moving home. Remodeling the kitchen can really make a huge difference in your home.
Apart from the cabinets, there are so many options to be had in the kitchen that you really can end up with a unique look and feel in your remodeled kitchen. With so much choice in cabinets, countertops, backsplash materials, lighting, floors and kitchen appliances there is a dazzling array of choices to be made.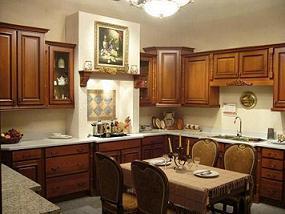 The details can make all the difference as sometimes its those little touches in your kitchen that you fall in love with. Combine your choices to create an elegant kitchen.
Cherry cabinets combined with a black or a white granite can make an excellent choice and wonderful look in a kitchen. Choose a light colored floor to compliment those.
Cherry kitchens have a very warm feel to them and come with a character all of their own. You can use cherry to create both traditional styles kitchens or something a bit more contemporary. Over time cherry wood does tend to mature and get darker and richer.
Its the touch of character that tends to steer people towards cherry cabinets as its a combination of color and wood thats seems to have a lot of life to it. Some kitchen cabinet colors and materials can be a bit sterile and if you more of a natural person that gravitates towards natural textures and colors then cherry cabinets will probably work for you.
Modern Kitchen Bar Stools
Cherry Cabinets Countertop Photos