Kitchen Color Schemes
It can be hard to choose the color scheme for your kitchen.
The simplest option is to go for a single color such as white or two tone such as black and white.
But when you delve into more complex color choices it can be hard to choose.
The kitchen cabinets are probably the biggest focal point in the kitchen so their color is probably the one that has the biggest impact so take time when thinking which color you want to go for.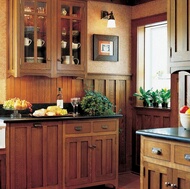 Countertops are next in importance and the color you choose for those needs to work well with the cabinet colors.
Small Kitchens
Kitchen Color Schemes
Kitchen Color Schemes