Modern Kitchen Design
Many of us want to remodel our kitchens to create that dream kitchen in our homes.
Some of us are looking to make the kitchen a little larger and some of us are trying to make it a little bit more stylish.
There are so many modern touches that we want to include in our kitchens to such as contemporary appliances that look good but are also energy efficient, long lasting flooring, funky lighting and beautiful and stylish countertops.
Of course remodeling you kitchen doesnt just improve its looks, its also an investment in your home and in your future, as the state of your kitchen has a direct impact of the value of your home.
Think about the shape of your kitchen and how to use it most efficiently.
The idea is to keep the traffic between the important work areas of the kitchen sch as sink, stove and refridgerator and countertop space to a minimum.
If you have the space add in a kitchen island to give you an additional food preparation and storage area.
Also consider your flooring and what sort of materials you would like there.
Ceramic tiles are easy and inexpensive but during the wintertime may be very cold to stand on especially first thing in the morning before the house has really warmed up.
Think about the kind of lighting you want for your kitchen.
You may want a main set if lights in the centre of the room for an overall lighting effect and add dimmer switches so you can control the overall level of light.
But you may also was specific lighting over certain areas for instance lighting over the stove although if you are installing a hood these often come with a light built in.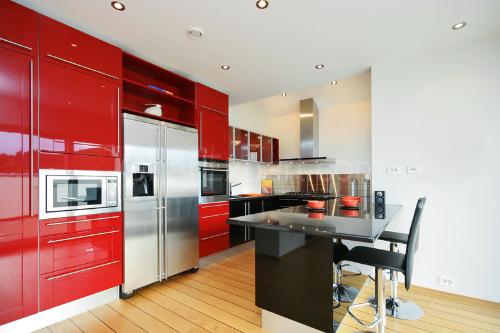 This about lighting above or near the sink, and undercabinet flourescent lighting in case you want to work in your kitchen and need some focused light.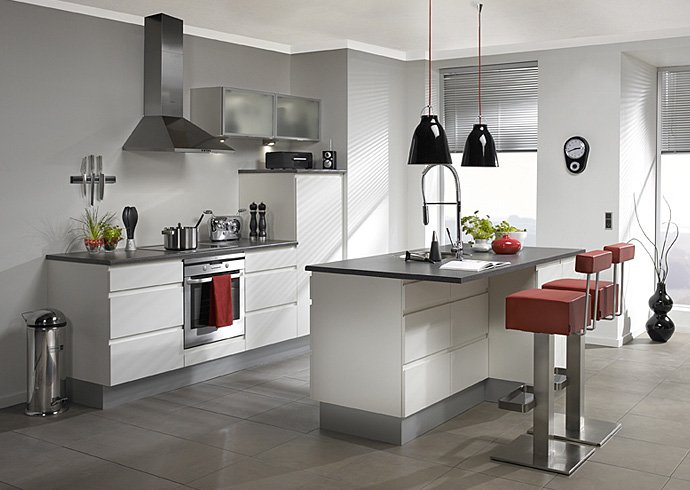 The kitchen is the head office of your home so take the opportunity to make it look the part and be one of the best looking rooms in your home.
A well layed out and stylishly modeled kitchen will soon become your favourite rom in your home to spend time.
Red Kitchen Tile
Modern Kitchen Design